Today, some hardcore presidential historians are remembering Theodore Roosevelt who was born on this day, October 27, 1858.

But the first President Roosevelt was far more than a politician and the 26th chief executive of the United States; He was an author, naturalist, soldier, explorer, and historian.

He was also a boxer, sort of.

Known for his high energy, electric persona, a wide range of interests and knowledge areas, and alpha male swagger, the Commander n' Chief was mildly obsessed with boxing, weekly inviting sparring partners to go a few rounds with 'The Trust Buster.'
And while the distinguished leader wasn't a professional fighter, Teddy Roosevelt was certainly no tomato can. Also dubbed 'Lion,' this head of state could actually fight.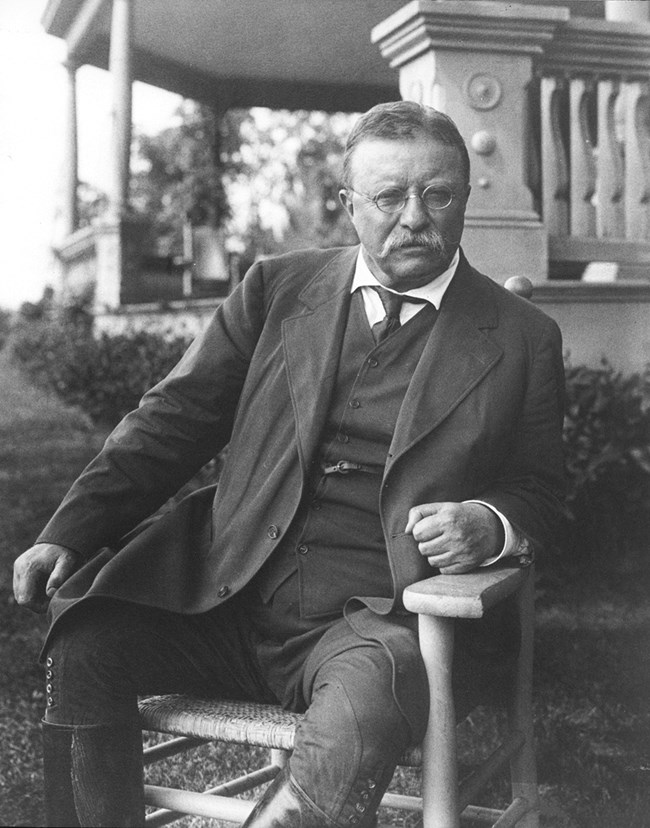 Regarded by many historians as one of the top 10 U.S. presidents to date, Roosevelt learned to box while studying at Harvard and was runner-up in a college boxing tournament. A light heavyweight in the ring, the soon-to-be presidential pugilist would go on to graduate from the Ivy League institution with an A.B. magna cum laude in 1880.

Roosevelt, who sometimes sparred with pros, was a good friend of ex-heavyweight champion John L. Sullivan and insisted boxing/sparring was a "condensed way" to get exercise and continued to practice the manly craft years after graduation.
Sworn in as president in 1901 at the tender age of 42, Roosevelt often 'threw down' with young military aides, probably getting the better of his inexperienced foes.

This ritual, a practice he employed as Commissioner of the New York City Police Department and governor of the same state, would continue in The White House for another seven years until the president finally met his match in 1908.

In Teddy's proverbial 'last stand,' an opponent landed a jolting shot to the president's left eye which opened a massive cut and generated a detached retina, eventually leaving him nearly blind in that orbital.
TKO.
"His doctors ordered him to stop [boxing] at that point," said John Gable, then-executive director of the Theodore Roosevelt Association in Oyster Bay, N.Y, via the Chicago Tribune.
Only 50, Theodore Roosevelt was forced to hang 'em up, despite the fact he seemingly had more energy than most men in their 20s.
So who was brash enough to TKO the president?
It's a secret.
As a matter of fact, according to the Chicago Tribune, only three or four of Roosevelt's closest confidants knew that he had been blinded. Apparently, Roosevelt wanted to protect the identity of the other boxer… and, perhaps, save a little face in the process.
Even then, the president's getting TKO'd in The White House would have been headline news. Who knows? Such an incident may have impacted his approval ratings.
Roosevelt later wrote in his autobiography:
"I had to abandon boxing as well as wrestling, for in one bout a young captain of artillery cross-countered me on the eye, and the blow smashed the little blood vessels. Fortunately it was my left eye, but the sight has been dim ever since."
"Accordingly, I thought it better to acknowledge that I had become an elderly man and would have to stop boxing. I then took up jiujitsu for a few years."
Always looking lean and fit, perhaps President Biden trains on occasion?